| | |
| --- | --- |
| | Resources for Saxophonists |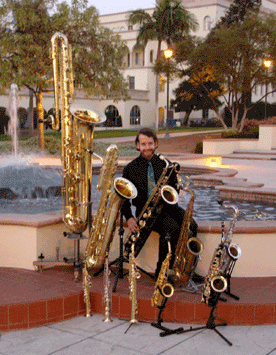 "The saxophone is not just something to blow into; it's something to sing through." -Paul Brodie
Lists of Recommended Saxophone Repertoire
For solo saxophone and saxophone quartet. Includes suggested
etudes and method books for saxophonists and doublers, a list of CDs for suggested listening, and links to websites that sell saxophone music.

Selected Saxophone Links
The North American Saxophone Alliance
Saxophonists' association for Canadians and Americans
The A.Sax Association of Saxophonists
The French Saxophonists' association
VintageSax.com
A great source for vintage saxophones
SaxQuest.com
Another great source for vintage saxophones
www.SaxRax.com
The sturdiest saxophone stands on the planet
www.contrabass.com
A wonderful online source for information on low instruments
JodyJazz Mouthpieces
Excellent mouthpieces made by a modern master


Health-related links
www.thework.com
A powerful tool for clearing the mind of stressful thoughts.

The Alexander Technique
Also a powerful tool for dealing with physical pain and stress brought on by repetitive motion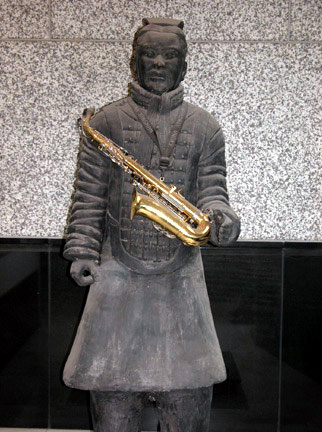 Photo by Jonathan Ingber

One of the famous terracotta warriors in Xi'an, China.
He may be 2,200 years old, but it just proves that you're
never to old to enjoy the saxophone!
All material © Jay Easton unless otherwise noted