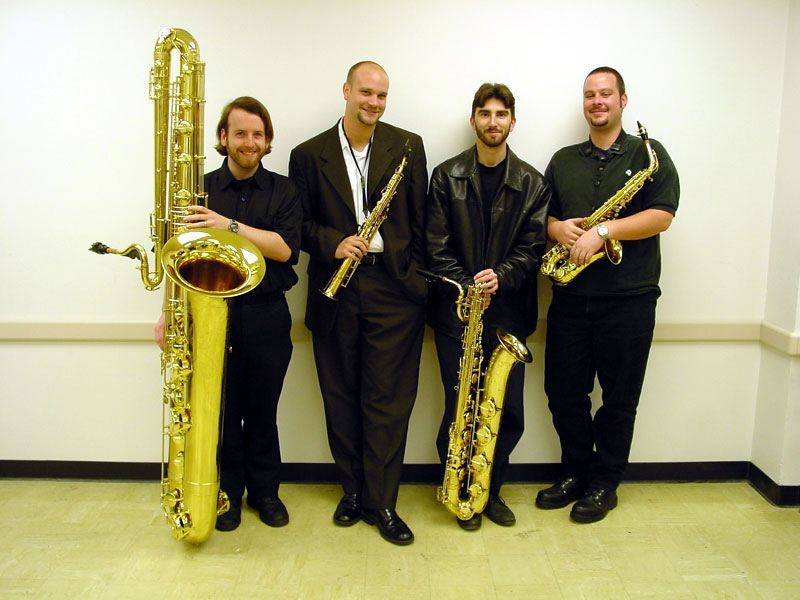 Spectrum Quartet :
Jay C. Easton, Lee Elderton, Ward Baxter, and Josh Salez
"My String Quartet should be played like a saxophone quartet."
- Maurice Ravel (1875-1937)
The Spectrum Saxophone Quartet was a pioneering ensemble dedicated to exploring the entire array of musical colors available to the saxophone. Founded in 1995, this unique and fascinating group was the only quartet in the world to regularly perform on the entire saxophone family from the tiny sopranino to the majestic six-foot-four contrabass. This expanded instrumentation gives an astonishing six-octave range, and an unforgettable visual and aural impact.
Devoted to the advancement of the saxophone family and its repertoire, Spectrum commissioned and premiered numerous compositions in many genres, and championed in particular the works of American composers. While the saxophone quartet was initially patterned after a string quartet, this ensemble far surpasses its 19th-century model in versatility; a wider range of styles is available to it than any other type of chamber ensemble. Spectrum's concert programs included classical quartet repertoire from the 16th through 21st-centuries, jazz of every era and style, improvised compositions, folk music from around the world, and entertaining programs designed to introduce children to classical and jazz music.
The members of Spectrum, each artists in their own right, have diverse areas of musical focus, yet they each brought something unique and special to contribute to the cohesiveness of this flexible group. In addition to the standard quartet format of soprano, alto, tenor, and baritone saxophones, Spectrum extended its palette through the use of rare and unusual saxophones including sopranino, mezzo-soprano, bass, and contrabass. The Spectrum Quartet toured internationally, received residency grants at San Diego State University, and was a finalist in the prestigious 1999 Coleman Chamber Music Competition. Their final CD release, Chatter, will soon be available through the Recordings page of this website.


Some sound clips showing some of the variety of the saxophone quartet repertoire:


mp3 Spectrum French classical (Jean Francaix) 2.6MB
from Petite Quatuor, mvt I
(Instrumentation: LE-Soprano, JS-Alto, WB-Tenor, JCE baritone)

mp3 Spectrum American folk (Jack Marshall) 2.7MB
from Goldrush Suite, mvt. IV
(Instrumentation: LE-Soprano, JS-Alto, WB-Tenor, JCE baritone)

mp3 Spectrum jazz-classical hybrid (Dana Wilson) 4.6MB
from Escape to the Center
(Instrumentation: LE-Soprano, JS-Alto, WB-Tenor, JCE baritone)

mp3 Spectrum American 20th-c. classical bubbling lava (Andrew Stiller) 3.5MB
from Chamber Symphony, mvt IV
(Instrumentation: LE-Soprano, JS-Alto, WB-Tenor, JCE baritone)

mp3 Spectrum American 21st-c. classical (Roger Przytulski) 2.5MB
from Fountain Dances, mvt. II
(Instrumentation: LE-Sopranino, JS-Alto, WB-baritone, JCE Contrabass)

mp3 Spectrum improvisation w/ percussion 2.9MB
w/ Nathan Hubbard
(Instrumentation: LE-Tenor, WB-Baritone, JCE baritone w/bass trombone mouthpiece)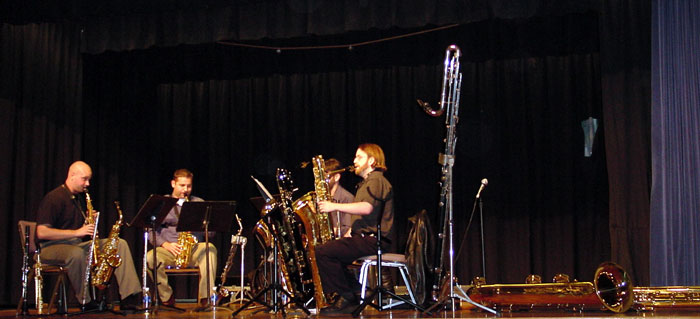 Spectrum Quartet in concert: Lee Elderton, Adnan Marquez, Ward Baxter, and Jay C. Easton

All material © Jay Easton 2001-2006 unless otherwise noted